Motorhome regulation 2020
Driving a motorhome: motorhome regulations 2020
Driving a motorhome is the first question you ask yourself when you want to start in this world. Motorhome regulation 2020
What you should know, in general, is that it will mainly affect the general traffic regulations for driving a motorhome.
It can be driven on any road that does not prohibit it for basically measurement reasons: height (tunnels), length or width. All this, regardless of traveling in new or second-hand motorhome. Although keep in mind that second-hand ones, according to age, will have limitations due to environmental restrictions.
There are interurban and urban roads that you will find that prohibit the passage of motorhomes. We cannot drive a motorhome on these roads. This is due to municipal ordinances and regulations that prevent it.
When it is for security or size reasons, it is perfectly understood that they do not let us drive a motorhome there. But, there are some municipalities that prohibit it for much more complicated reasons. Mainly, for economic interests or lobbies that reign in the municipality. Motorhome regulation 2020
In this case, in Spain we are not lucky. There is a European Directive that requires all European countries to treat a motorhome or camper the same as any other vehicle, as long as it does not camp (leave the perimeter of the vehicle).
However, in Spain it has not yet been transposed into law and that is why municipalities can approve ordinances or regulations against motorhomes, fining us in many cases. Even for the simple fact of parking in a place that we do not disturb anyone.
The European Motorhome Directive has not yet been transposed into law in Spain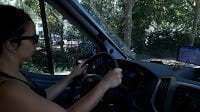 It has been created precisely the Platform with Law in Hand to press towards this objective: to transpose the Directive into a national Law that conceives us like any other vehicle. With the same rights to circulate, park and drive a motorhome as any other vehicle (as long as we don't camp). Motorhome regulation 2020
But since there is still no law, It may be that there are municipalities that prohibit you from traveling by motorhome, in part or all of the municipality.
The vans in this can be scaled a bit more. Especially the smallest, California type. Motorhome regulation 2020
In any case, if you are fined it is not illegal today. Whenever there is a municipal ordinance or regulation that prohibits it, approved by the Plenum of the City Council.
Environmental restrictions applicable to motorhomes and campers
Especially if you are going to drive a motorhome through big cities, keep in mind the environmental badges that you have to carry in your motorhome or camper.
To consult more information about the environmental mark in Spain go to:
http://www.dgt.es/es/seguridad-vial/distintivo-ambiental/index.shtml
To know what environmental badges require you outside of Spain and even to buy the badges we look at it on the following website:
https://www.green-zones.eu/es.html
Technology for motorhomes and campers that helps us know where to drive quietly
Traveling and driving a motorhome, sometimes, due to its height, width and length measurements, is not easy. It is the great fear of most people who start in this world.
Going through mountain roads or small towns that one does not know can become an adventure and even a feat to succeed.
Therefore, today, technology is the great ally of the motorhome.
It makes life easier for us to drive without fear and to drive a motorhome without problems.
The Special GPS for motorhome or trucks They are the great ally en route to drive a motorhome.
Some GPS that we recommend are Sygic (which can work on mobile), Garmin or Tomtom. As long as these are the special ones for motorhomes or trucks.
We have the Garmin one, which we can talk about very well after two years using it:
The good thing about these Specific GPS for motorhomes or trucks is that you can enter the measurements of your vehicle and take it into account when making the route.
They really are a relief and avoid scares during the trip.
Greeting in motorhome, a basic normative not written while driving in AC or camper
We couldn't finish this article without mentioning a basic rule for the motorhome driver. Wherever you drive, remember the following:
We must say hello to any fellow motorhome or camper that you find on the road.
It is an unwritten, national and international law. It is a good practice to travel by motorhome and create this community of travelers of which we are part. Driving a motorhome is also a social act for us.
If you still do not have a motorhome or camper, this interests you
If you do not have a motorhome or camper we still give you a tip to rent one before buying or campering a van. And if you want rent at a good price We advise you to do it from the website that we leave you here below. It will come out at half price because it is private rental. And on top you can rent it wherever you go saving kilometers on the route. In addition, in countries like France there is more supply and they are cheaper than in Spain. Many of our friends have rented through this platform and are very happy with the experience so we recommend it 100%. Of course, before, read our post about 9 things you should know before renting a motorhome or looking for a camper rental.
Click on each of the sections, to know everything and more about traveling by motorhome: